Especially if you are wondering which is the best among wet vs dry cat food? Then answer is both are excellent Choices. Therefore, some cat parents and cats prefer one option on the other while some owners feed their kitty both wet and dry.
You have different options while choosing the best cat food for your feline companion. Above all, you need to select the food that should be 100% balanced and complete according to your cat lifestyle and health conditions.
After all, considering many factors, we tried to simplify this issue to choose the best food for your cat buddy.
Wet Vs Dry Cat Food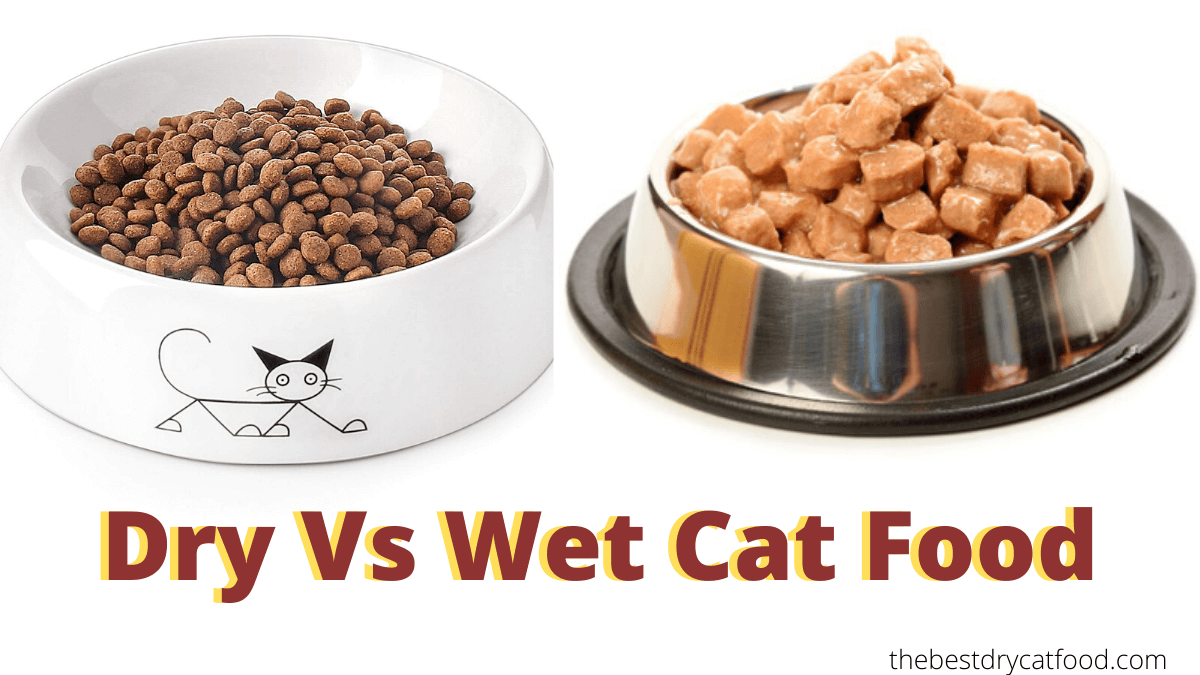 Definitions
Firstly, you should know how to differentiate between wet, dry cat food and cat treats.
Wet Cat Food:
If the water content is (>60%) higher than 60%, then we can say it's called wet cat food.
Dry Cat Food:
If the water content is less than 14% (<14%), we can say it's dry cat food.
Cat Treats:
If the water content is between 14% to 60%, then we can say it's a cat treat.
Wet Cat Food
You may know that wet cat food often comes in small size cans and rarely in pouches. Mainly it makes your cat portion control more accessible. Moreover, wet cat food is helpful for cats diagnosed with special medical conditions.
For instance, this food type is fruitful in reducing urinary crystals and fixing kidney issues. Above all, wet cat food keeps your cat hydrated and keeps your cat safe from other health issues.
Pros
Cat loves the ingredients and texture

Easy to chew

Multiple varieties

Keep your feline hydrated

100% complete and balanced

More than a treat or snacks

Suitable for overweight cats
Cons
Costly than dry cat food

Can't left outside for more than 30 minutes to avoid bacterial growth.

Need to be frozen for reuse, but some cat doesn't like frozen food.

Need to clean the cat's face if they are lazy to clean themself.
Dry Cat Food
Dry cat food comes in larger bags because it contains less moisture content. Notably, many cat owners prefer dry cat food because it's convenient and more cost-effective.
Furthermore, the shelf life of dry cat food is more prolonged than wet cat food so that you can feed your kitty in the longer run. Therefore you can leave dry cat food out for all day without any risk of bacterial growth.
Most importantly, it is fruitful to reduce tartar and plaque buildup on your feline's teeth.
Pros
Budget-Friendly

Can be stored for a longer period

More Convenient

100% complete and balanced

Dental benefits

Suitable for underweight cat
[/su_list]
Cons
May cause dehydration because of less water content

Hard to chew as compared to wet cat food for cats having fewer teeth like older cats.
FAQ's
Is dry or wet food better for cats?
Mainly it depends on the food choice of your feline partner. However, we recommend you to feed the blend of both wet and dry cat food. The reason is wet cat food will provide plenty of moisture in the diet while dry cat food will be beneficial for dental care. Moreover, adding variety in your cat's meal will increase the palatability because cats are neophiliacs that appreciate new things.
Can Cats live on dry food only?
Yes! If the dry cat food is 100% complete and balanced, then your cat can only live on dry cat food. But you need to provide fresh water to your feline to keep them hydrated. If the feline will intake more water than it will help fix urinary tract blockage issues.
Do cats need wet food every day?
It depends upon the different factors like your cat's health, weight and other factors. Moreover, you can feed wet cat food at any time in a day. Furthermore, you can take recommendations from your vet.
Is wet or dry cat food better for overweight cats?
Yes! If you feed wet cat food with a controlled diet, then it is fruitful in a weight loss of your feline. The wet cat food has fewer calories than dry cat food; that's why beneficial for weight loss.
Can I mix wet and dry cat food?
Yes! If both dry and wet cat food have high-quality ingredients that meet the nutritional needs of your cat, you can mix them.
Should I leave cat food out all day?
You can leave dry cat food out for more than a day, but if some food is left, you need to toss it out to keep food fresh. Whereas, it's not recommended to keep the wet cat food out for a day, because it can lead to bacterial growth.
Is wet food bad for the cat teeth?
Wet food plays a small role in tartar and plaque buildup. But remember, more water content in wet cat food doesn't lead to tooth decay.
Does dry cat food make cat's fat?
Dry cat food is more likely to cause obesity in felines and increase diabetes risk. Therefore if your cat has urinary tract or overweight problems, then we don't recommend feed dry cat food.
Related Post: Healthiest Dry Cat Food
Is dry cat food bad for cats?
No! There are some misconceptions that people think to feed only canned/wet food to their cats instead of dry food. Whereas, a lot of cats are working fine by consuming dry cat food. 
After all, if you are feeding dry cat food to your pet cat that fulfills all the nutritional requirements, then it's okay. Remember; don't forget to feed extra water with dry cat food to avoid dehydration.
Why do cats not drink water next to the food?
Some cats prefer to eat food away from water. It is so because their evolution has taught them that the water can get contaminated because of their prey.
Does wet food cause diarrhea?
Whenever you overfeed your cat buddy with wet food, then it can cause diarrhea. Whereas, you can feed them according to their nutritional requirements and vet recommendations.
Final Verdict:
Summing up, it's better to feed a mixture of both dry and wet cat food. Moreover, you can also feed dry cat food in the morning and wet cat food in the evening. Especially don't overfeed them and keep proper portion control to ensure either your feline companion is getting adequate nutrition.
Lastly, it's an endless debate either to feed wet or dry cat food. However, it depends upon your cat's taste and choices. You can also consult your vet if you are still confused to pick the best food for your feline.
Which food worked for your feline partner? Dry or Wet Cat Food? Let us know in the comment section below.
[wpforms id="449″ title="false" description="false"]